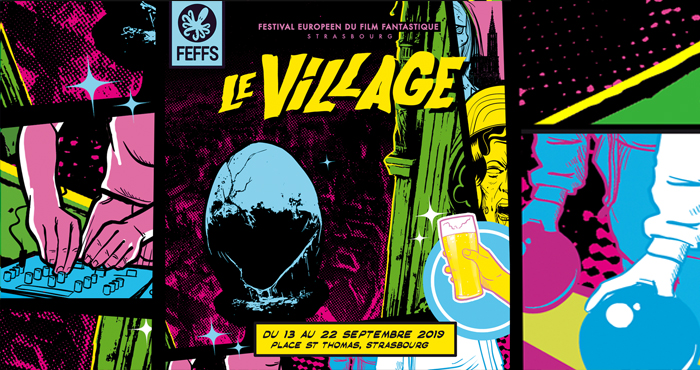 From 13 to 22 September
Place Saint-Thomas

The Village has been given a complete facelift and can once again be found at Place St-Thomas throughout the Festival.
Although you will still find a selection of exhibitors associated with the world of fantastic cinema, the focus this year will be on a programme of events, each more eccentric than the last.
—
On the programme:
– MADCAP EVENINGS: freak show, fantastic blind test, fantastic improvisation show, electro-groove evening, lectures with the Ososphère, DJ sets, etc.
– UNUSUAL ENTERTAINMENT: introduction to lightsabers, Star Wars cosplay, Frankendoudou cuddly toy workshop, mashup table, unconventional visit to the Church of St Thomas, bowling tournament, role-play evenings, board games, etc.
– EXHIBITORS' STALLS: Festival boutique, T-shirts, CDs, DVDs, posters of fantastic films and minimalist tattoos courtesy of Contraseptik and Le Petit Atelier de Dermographie.
—
And, of course, you will also find our usual super-cool refreshment area replete with Emmaüs furniture to enable you to wind down between two screenings and treat yourself to a beer or two and a tarte flambée.
May the Chill be with you!
Programme