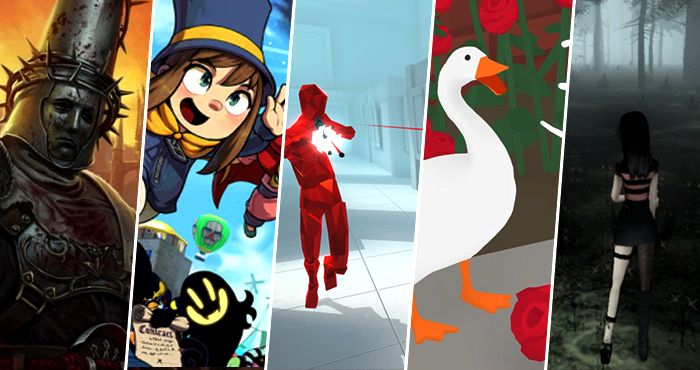 FIVE INDIE GEMS WAITING TO BE DISCOVERED

Now that the Festival's call for entries for the 8th Indie Game Contest is open – celebrating both the future of indie games and the rich abundance of what's on the market today – let's take a look at five major indies that marked the decade.
Blasphemous
Blasphemous is love at first sight. In this rigourous, die-and-retry metroidvania, you are The Penitent One, a masked character who confronts a corrupt religious order recalling the Spanish Inquisition. The cursed lands of Cvstodia teem with profane abominations that must be eliminated in minutely constructed levels, which you'll explore to the music of a melancholic soundtrack with Iberian overtones. The plot is a cryptic one and navigating Blasphemous' exceptional artistic universe is a demanding trip that requires discipline, so any first attempts may well leave a few scars.
Developed by The Game Kitchen, published by Team17.
A Hat in Time
A Hat in Time will make you nostalgic for the Gamecube era. It's one of those cocooning comfort games that makes you wish you lived in the world of its cute characters. The story is simple: a mischievous little girl named Hat Kid must look for missing Time Pieces – magic hourglasses that power her spaceship – while exploring a coastal town, a movie studio and a haunted forest. In a gameplay reminiscent of the best of Mario in 3D, players can also collect hats that grant new powers. And now that it's been updated, it can be played as a couch coop game.
Developed and published by Gears for Breakfast.
Superhot (VR)
If you need a home-sheltering adrenalin boost, Superhot will do the trick. A 2014 finalist in the Indie Game Contest, this shooter game immerses you in a minimalist, two-colour world where everyone is after your skin. Its brilliance lies in the originality of its concept: time moves forward only when you do. Don't move and the world will come to a standstill. Simple but with explosive results, Superhot is an FPS which requires plenty of strategic thinking. Available in virtual reality since 2016 and recently on Switch, it's your chance to get in some living-room somersaults while acting out cult scenes from your favourite Hong Kong action movies.
Developed and published by Superhot Team.
Honk!
Everybody knows it – geese are demonic creatures. Untitled Goose Game, released in 2019, is a sadist's dream. An undercover game parody, you are a malicious goose that loves to wreak terror in a peaceful little village. Be creative: you can grab people's glasses, mess-up the garden sprinkler or untie a waiter's shoelaces. Your only guide is a list of abuses that will put you on the sadistic strait and nasty narrow. The game's ultimate glory is a button that makes the goose honk. Enough to use several controllers for this hilarious action alone.
Developed by House House, published by Panic.
The Path
To finish up in the spirit of the Festival, The Path is a contemporary uptake of Little Red Riding Hood, but from a definitely more horrific angle. Six sisters are on their way grandmother's house and it's up to you to make sure that they follow the path. But the temptation to stray is overwhelming. Curious items linked to the girls' past are strewn about and exploring them can lead to an encounter with the Wolf, a metaphor for a traumatism buried in each girl's past, whether linked to a nefarious event at a misty lake or an encounter with a sexual predator. The Path is a game in which you must accept getting lost and piece together bits of information about the fate of these tragic characters from a tale outside of time.
Developed and published by Tale of Tales.