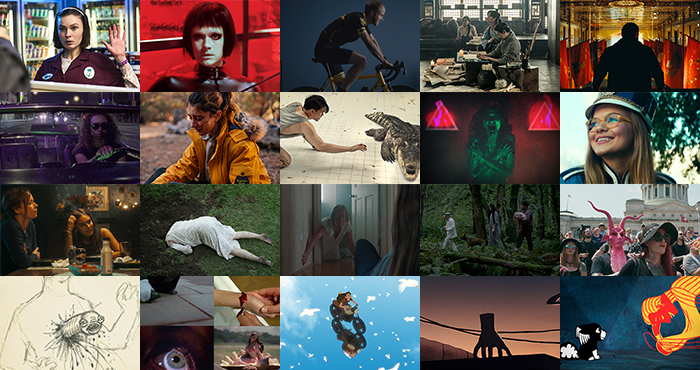 FIRST WAVE OF FILMS ANNOUNCED

Less than two months from the Festival launch, we have much pleasure in unveiling a first look at some of the films chosen for the official selection.
After presenting The Woman and All Cheerleaders Die, Lucky McKee will be returning to the international fantastic film competition with his new movie Kindred Spirits. A horror thriller about a single mother overwhelmed by the unexpected return of her sister, who begins a close relationship with her teenaged daughter that soon turns shadowy. Another film from across the pond, Knives and Skin, a first feature directed by Jennifer Reeder, immerses us in an investigation worthy of Twin Peaks after a teenager's disappearance.
The third American film in the selection is Jeff Brown's The Beach House, in which two young lovers arrive at his family's beach house to discover that friends of his father are temporarily living there. But much stranger things are going on outside along the beach that will have very far-reaching consequences.
In The Hole in the Ground by Irish director Lee Cronin, a mother is about to discover that a mysterious hole in the forest adjoining their house has a strange effect on her young son.
Finally, with Johannes Nyholm's Koko-Di Koko-Da, a couple that has gone camping in the forest is subjected to abuse by a man dressed in his Sunday best and two of his associates dressed in rags, in a kind of incessant time loop.
In the Crossovers section, thrillers, film noir and black comedies will be jockeying for position. In Sons of Denmark, Ulaa Salim takes a premonitory look at the rise in violent Islamophobia in Denmark. On a lighter note, Dogs Don't Wear Pants by Finnish director J-P Valkeapää depicts with humour and sensitivity the BDSM initiation of a widower attracted by the possibility of enjoying extreme experiences after the death of his wife.
A comedy and period film set in the 15th century, Jesters: The Game Changers follows a gang of skilful tricksters recruited by the king to make his people believe his reign is approved of in the heavens. Korean director Joo-Ho Kim has directed a pungent social satire on our era of fake news and doctored photographs.
A closed-door thriller with many twists and turns, Mike Gan's Burn is initially about a petrol station robbed by a man on the run. But a cheeky, daring and lonely employee at the station's store turns tables on everyone with her unexpected reactions.
Finally, Adam Sedlák's Domestique, a claustrophobic closed-door horror movie about a couple who suffer the torments of their obsessions: in Roman's case becoming a top cyclist through constant training and in Sarlota's, having a child come what may, even if it means their toxic obsessions destroying their bodies and their spirit.
The international competition for animated film brings you the best in animated cinema for adults. I Lost My Body follows a severed hand that escapes from a lab and perilously wanders about town looking for its owner, while Naoufel, a pizza delivery boy tries to get close to Gabrielle, with whom he has fallen in love.
In an explosion of colours and emotions, Anca Damian's Marona's Fantastic Tale follows the life of a little dog who, after an accident, recalls the various masters she has had. Based on a collaboration with the illustrator Brecht Evens, Marona takes us on a dog's-eye journey with humour, sadness and poetic beauty.
Away, the first feature film by Latvian Gints Zilbalodis, director, producer and composer all in one, takes us on a motorbike journey across an island, as a young boy and a bird flee an evil spirit inexorably advancing towards them. Hypnotic, bewitching and poetic.
Extravagance and excess will once again be the focus of the midnight sessions with the Thai film The Pool by Ping Lumpraploeng, which features a man cornered in an empty swimming-pool with a crocodile.
In Keola Racela's psychedelic Porno, a group of teens working in a cinema will free themselves from their boss's zealous Christian teachings when they discover the reels of a mystical and orgiastic film in an abandoned cinema located in the basement of their place of work.
In Body at Brighton Rock, Roxanne Benjamin takes us to a national park with a young novice ranger who discovers a crime scene and then has to confront her fears and hallucinations.
Finally, Joe Begos's Bliss features a painter prepared to do anything to complete her masterpiece, spiralling into a hallucinatory hellscape of drugs, sex, and murder in the sleazy underbelly of Los Angeles.
The non-competitive special screenings section, with a focus on documentaries will present Memory: The Origin of Alien, in which Alexandre O. Philippe returns to Dan O'Bannon's original script with fascinating interviews. Also playing will be the unorthodox Hail Satan? in which director Penny Lane highlights the Satanic Temple. A certified religion which proves to be a militant movement for freedom of speech employing diabolically odd methods to counter fundamentalist Christians.
Finally, Frank Beauvais 's Just Don't Think I'll Scream is a film for cinephiles, a medley of extracts from movies, sometimes with an eye on B-movies, but always with pertinent comments about life and the balm that is cinema for an injured soul.