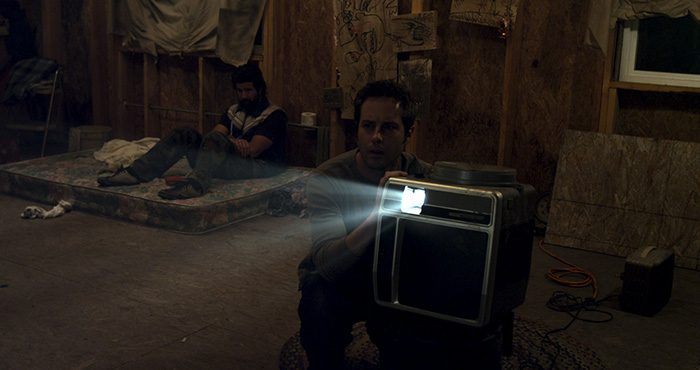 Michael receives a video of his best friend Chris, wasted on meth, half-mad in an unknown place. Michael tracks him to an isolated cabin in northern California. Michael plans to help Chris get back on track by first getting him off drugs. He handcuffs him in place, waiting for the meth to wear off, with the intention of checking him into rehab. But then an uneasy strangeness sets in beginning with odd visits: a dog, a little girl staring, and for a few nervous laughs, preppy-like loonies waiting for Christ's spaceship in the woods. Real tensions build as increasingly unexplainable things begin happen: nebulating lights; photos left for them to find; videos of themselves in the cabin. They slowly understand that their lives are in danger.
With held-back pacing, Resolution evolves slowly from the strange to the uncanny to full-fledged fear, with an effective use of wall carvings, videos, photos, Indian legends, an invisible photographer and the film's leitmotif of nebulating lights – culminating in a final explosion of forces far beyond the control of the two protagonists.
Justin Benson has worked at every odd job in the industry, and has made commercials and short films. Resolution is his first feature film. Aaron S. Moorhead made his first feature at age 19. He has shot several Indie features, as well as numerous shorts and commercials.
Infos
Country: USA
Year: 2012
Duration: 1hr 33
Version: English, with French subtitles
Rating: 12+
Cast & Credits
Director: Justin Benson, Aaron S. Moorhead
Producer: Justin Benson, David Lawson
Screenplay: Justin Benson 
Cinematography: Aaron S. Moorhead
Editing: Justin Benson, Aaron S. Moorehead
Cast: Peter Cilella, Vinny Curran, Zahn McClarnon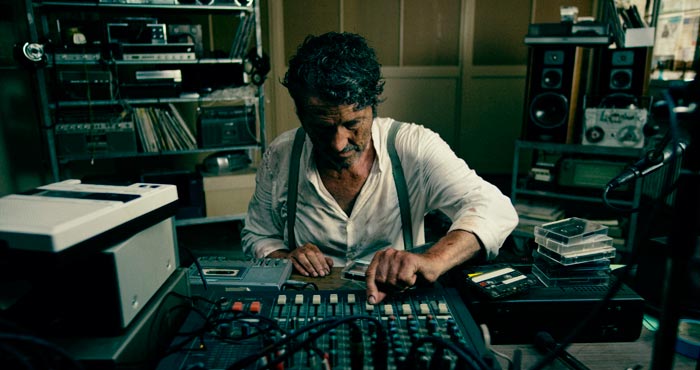 Le métier de bruiteur ne nécessite pas seulement un sens artistique aigu. DAS MÄDCHEN IM SCHNEE nous démontre que lorsqu'il s'agit de reproduire certaines sonorités, la réalité dépasse toujours la fiction
Infos
Pays : Switzerland
Année : 2018
Durée : 7′
Cast & Credits
Réalisation : Dennis Ledergerber
Contact : info@cut-up.tv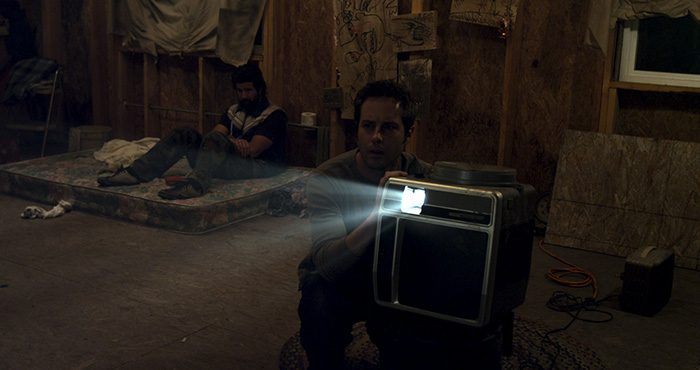 Michael reçoit une vidéo de son meilleur ami Chris, sous l'emprise de la méthadone à moitié fou dans un endroit inconnu. Il réussit à retrouver sa trace jusque dans un cabanon au Nord de la Californie. Michael décide d'aider Chris à se remettre sur les rails en commençant par le faire abandonner la drogue. Il réussit à le menotter sur place, attendant que l'effet de la méthadone s'estompe, avec l'intention de le faire entrer en cure de désintoxication. Ils vont rapidement recevoir quelques visites bizarres: un chien, une petite fille regardant à la fenêtre, puis une bande d'illuminés qui attendent dans la forêt le vaisseau du Christ. Des tensions s'installent alors que des événements inexplicables commencent à arriver: des flash de lumière, des photos et des vidéos d'eux sont laissées intentionnellement dans le cabanon. Ils commencent alors à comprendre que leur vie est en danger.
Avec un rythme tout en retenue, Resolution passe doucement de l'étrangeté à des scènes d'effroi total en utilisant efficacement des éléments aussi simples que des fresques murales, des vidéos, ou des photos, culminant dans une explosion finale de forces dépassant le contrôle des deux protagonistes.
Justin Benson a exercé tous les petits boulots du cinéma et a réalisé plusieurs publicités et courts métrages. Resolution est son premier long métrage. Aaron S. Moorhead réalise son premier long métrage à l'âge de 19 ans. Il a réalisé plusieurs publicités et courts métrages ainsi que des longs métrages.
Infos
Pays : USA
Année : 2012
Durée : 1h33
Version : Anglais, sous-titré en français
Avertissement: Interdit aux moins de 12 ans
Cast & Credits
Réalisation : Justin Benson, Aaron S. Moorhead
Production : Justin Benson, David Lawson
Scénario : Justin Benson 
Photographie : Aaron S. Moorhead
Montage : Justin Benson, Aaron S. Moorehead
Interprétation : Peter Cilella, Vinny Curran, Zahn McClarnon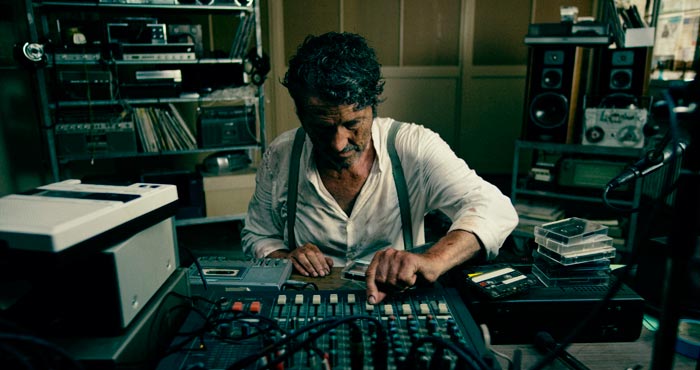 Le métier de bruiteur ne nécessite pas seulement un sens artistique aigu. DAS MÄDCHEN IM SCHNEE nous démontre que lorsqu'il s'agit de reproduire certaines sonorités, la réalité dépasse toujours la fiction
Infos
Pays : Switzerland
Année : 2018
Durée : 7′
Cast & Credits
Réalisation : Dennis Ledergerber
Contact : info@cut-up.tv