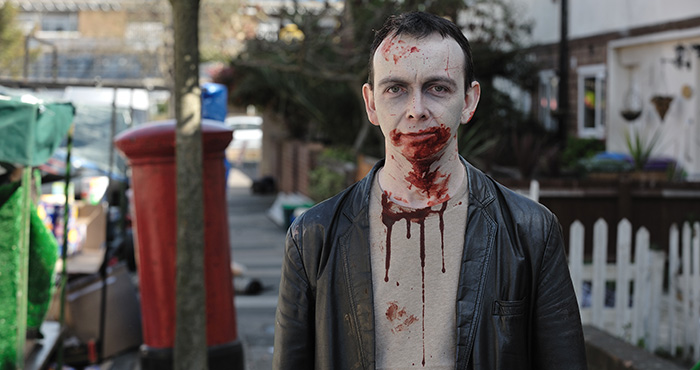 What do Cockneys have in common with their enemies, the Zombies?
Andy and Terry, two Cockney brothers rob a bank to try and save their granddad's care home about to be destroyed to make way for Yuppie-Bobo flats. Grandfather, a ferocious ex-Nazi killer who would have sent Hitler and Himmler into a spin, is bored sitting around waiting to die. Then a zombie virus breaks out and the undead attack the care home. Grandfather springs to action, trains his retired companions in head- smashing, but without arms, they can hold out only so much longer. Andy, Terry and their makeshift heist gang rush to help. They must save the old folks, the loot and split the London scene fast.
Cockneys and Zombies is funny, action packed and rich in intelligent social commentary. A Cockney is a working class native of London's East End, but the once tight-knit community has dwindled due to habitat destruction (like the care home). Cockney dialect is highly colourful (dog and bone = phone), but not the one to have if you're class conscious. Cockneys take great pride in their identity and like zombies, refuse to be stamped out. And what a pleasure to see Honor Blackman, ex-Pussy Galore, as a beautiful old lady knocking off zombies with her man.
Cockneys and Zombies is Matthias Hoene's second feature film; he previously made Beyond the Ravein 2008.
Infos
Country: United Kingdom
Year: 2012
Duration: 1hr 30
Version: English, with French subtitles
Rating: 16+
Cast & Credits
Director: Matthias Hoene
Producer: James Harris, Mark Lane
Screenplay: James Moran, Lucas Roche
Cinematography : Daniel Bronks
Editing: Neil Farrell, John Palmer
Music: Jody Jenkins
Cast: Michelle Ryan, Harry Treadaway, Alan Ford