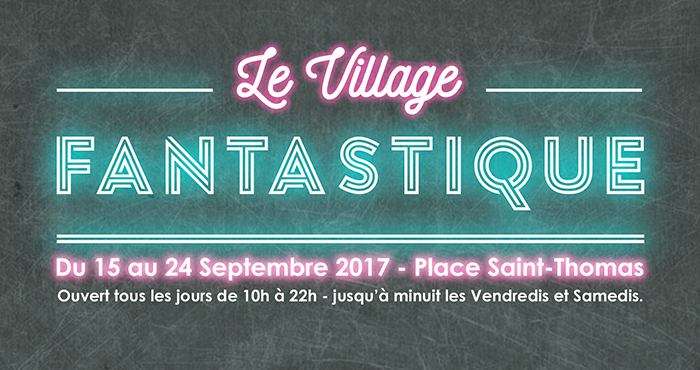 From 15 to 24 September
Place Saint-Thomas
Open daily from 10am to 10pm / till midnight on Fridays and Saturdays
The Fantastic Village is back…
A highlight of the Festival, over a drink or a snack between two film screenings, come and meet the team, discover creators and experience the fantastic entertainments on offer. You'll need to show a little environmental responsibility and solidarity too because these are things we and the planet all need!
The Village and Emmaüs Scherwiller are partners this year, so our furniture and fixtures come straight out of the Emmaüs stock and it will even be possible to acquire the magnificent items that we've chosen to embellish our refreshment area.
The Village will also be hosting an exhibition of incredible works by Daniel Depoutot. Sculptures made from recycled materials and abandoned objects brought back to life by the artist will be installed at our dearly loved Place Saint-Thomas.
To stir your senses and thrill you with surprises, the team and our partner have put together a sensational programme of entertainments.
Inauguration
Friday 15 September, 12 noon-2pm
We will be inaugurating the Village with musical accompaniment in the form of a concert by Bad Juice. In charge, two brothers with boundless energy in search of an authentic blues with the smell of a cellar and the heat from amp tubes. There'll also be a live demonstration of tattooing by Pierre Perichaud, a presentation by 10 artists and 10 original works (we can't tell you more now, so come along and see for yourself), a make-up workshop and , obviously, a great speech or two.
Entertainments programme
La Sauce aux Jeux
Friday 15 & 22 – Saturday 16 & 23 / 6pm-midnight: Role play
Saturday 16 & 23 / 2-6pm: Board games
Sunday 17 / 5-7pm: Werewolf
La Sauce aux Jeux is back and invites you to share seven highlights. Share in the discovery of fantastic worlds by taking part in an afternoon of board games; come and play colourful characters on an evening of role play or enjoy an enhanced werewolf experience.
Board games and werewolf from age 14 – Admission free
Role play from age 18 – Only by registration (by clicking here)
Human 2.0 – the association Cyclope
Monday 18 / 7-9pm: Games and discussions on artificial intelligence
Tuesday 19 / 7-9pm: "Science and fiction" quiz
The association Cyclope brings together its impassioned members to let us see science differently. This year, Human 2.0 is in the limelight. For the inquisitive among you, Cyclope will flex your brain cells on an evening focusing on artificial intelligence, unleash your general knowledge with a "Science and fiction" quiz and amaze the children with a workshop centred on optical illusion.
The Factory of the Strange – Bain aux Plantes workshop
Printing session for lovers of Frankenstein
Sunday 17 / 11am-3pm – Tuesday 19 / 4-7pm – Wednesday 20 / 2-5pm – Sunday 24 / 1-5pm
Bring to life the creatures that haunt your nightmares or that inhabit your most amazing dreams! Devised by the artists of Bain aux Plantes, this printing session will enable you to create the creature of your dreams, discover printing techniques and leave with the result of your efforts.
Sales of prints at pay-what-you-want prices and workshop suitable for children on the Wednesday.
Fantastic Kids
Wednesday 20 / 2.5pm
Children are at the forefront for this creative afternoon. Build your monster, bring the creature of your dreams to life, discover optical illusions and have yourself made up to look like your favourite character. In collaboration with the Bain aux Plantes workshop, the association Cyclope, the Candice Mack team and our volunteers.
Make-up – 3 euros
Games appetiser – Philibert
Wednesday 20 / 5-10pm
The Philibert team will be extending the Festival experience by offering a "games appetiser". Explore fantastic, strange and frightening games. If you like zombies, dripping-wet creatures and games, you'll find monstrosities right here. With Monster Chase, Smash Up or a game of Zombie Dice, there'll be something for all tastes and all ages.
Graffiti live – Mahon
Friday 22 / 11am-6pm
Mahon, an artist, graffiti artist and designer of the Festival posters for 10 years will be here to give a live graffiti performance. Come and directly experience the process and development of the fresco that spotlights vampires and other creatures of the night.
FX & Body-painting – Candice Mack school of make-up
Saturday 23 / 10am-7pm
Come and see the live transformation of an ordinary mortal into a creature of fantasy! The use of prostheses, silicone and body-painting await you. Follow the process with the Candice Mack school's make-up artists and wander about the city with the creature that will take you as far as the venue of the closing ceremony.
A make-up stall for young and old all day long – 3 euros
Caravane ensorcelée – La pellicule ensorcelée
Saturday 23 / 2.6pm & Sunday 24 / 10am-5pm
The Caravane ensorcelée is a film theatre in a caravan and shows short films for young and old. During the Festival, it will be parked for two days at Place Saint-Thomas and offer an original programme.
The Festival team look forward to seeing you!