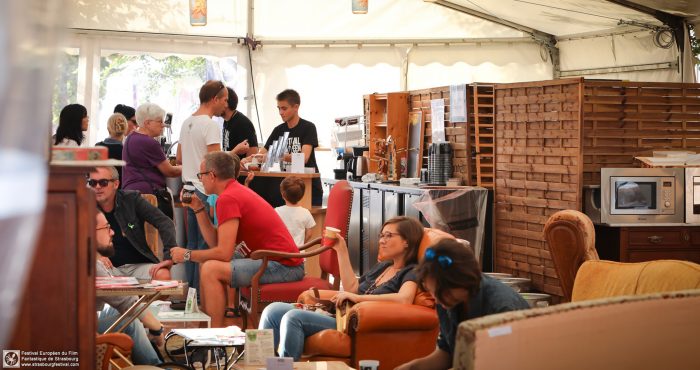 From 13 to 22 September 2019 – Place St-Thomas
Every day from 10am to 10pm (midnight on Fridays and Saturdays)
The Festival team invites you to come to the Village's refreshment area every day to unwind and chill out between screenings.
The area is entirely fitted out with furniture from Emmaüs and you will be able to choose your preferred item in the refreshment area at any time in order to come and unwind in the Village on the last day of the Festival, Sunday 23 September.
You will also be able to acquire wooden furniture (stools, armchairs and 2-seater settees) specially made for the Festival by Frédéric Pernet, the factory's wood craftsman.
In the meantime, come and enjoy a few beers and some tarte flambée, especially on special evenings:
– Friday 13.September, 6-7.30pm:  Village opening ceremony, before the Vaillant electro concert at 9pm.
– Monday 16 September, 6-9pm: "Tartes flambées of the world" evening, with tartes flambées made by migrants (in partnership with the association Makers for Change.
gg
The refreshments menu