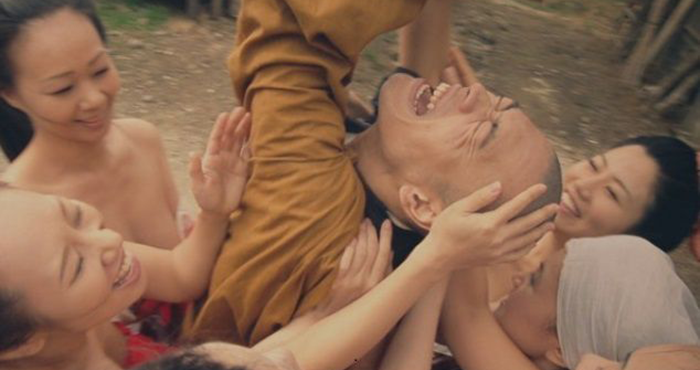 Finish your lockdown with a detour into three films that do the same. They go off the beaten track in a genre which, like most genres, tends to repeat itself. Two deal audaciously with irrationality, but don't look for answers, they'll leave you hanging in the dark. The other is a comedy about problematic sexual desire, but in a very unexpected time and place. Three weirdo films, uneasy with classification.
Black Moon – Louis Malle, France, 1975
A full-scale war erupts between men and women. A young woman, Lily, seeks shelter in an isolated country house. She enters a world shared by humans and animals, where traditional speech is turned upside down.
A bedridden woman receives updates on the Trojan war via a short-wave radio reaching across time. Some of the animals talk; other engage with humans through indecipherable sounds, while other persons in the house "talk" with gestures. There are also unexplained outbursts of murderous violence, but eventually Lily carves out a place for herself in this irrational world: she invites a unicorn to suckle her breasts.
Another dimension? A dream? A fall down the rabbit hole? An habitually exacting director, Malle forces viewers to navigate in the dark in this film with no context and few words. Best to sit back and revel at the audaciousness of his surprising foray into the fantastic.
Suffering of Ninko – Norihiro Niwatsukino, Japan, 2017
In a tiny Japanese village, an apprentice Buddhist monk, Ninko, diligent and chaste, is gifted or cursed, (however you see it) with a sexual attractiveness so powerful that women lose control at the sight of him. Fellows monks are not indifferent either. Horrified, he quits the monastic life and becomes a solitary wanderer. But things will change when a samurai solicits his help in taking on an archaic, man-hating female ghost.
An energetic mix of live action, animation and Japanese engravings that move, this period-piece fable is an unexpected version of a coming-of age comedy (more or less) in shogunate Japan.
Kosmos – Reha Erdem, Turkey, 2009
Battal, alias Kosmos, enters the Anatolian city of Kars, exactly as he will leave it, running, pursued by the police. But in between, he's received as a hero by the locals, after resuscitating a boy from the dead.  As the story unfolds, it's clear that he's gifted with otherworldly attributes and powers, connected to the stars. He needs no food, he walks upside down and seems strangely related to birds. His presence deregulates clocks and he can also heal the sick, which he does, until a boy he cures of mutism, suddenly dies. Points accumulate in his disfavour: he's steals; he eschews work; he talks about sex, until the locals turn against this radical, enigmatic visitor.
Thematically rich, supported by dazzling cinematography and a sound track of unrelenting intensity, Kosmos is a film that baffles as much as it enthrals. And it has one of the strangest and most endearing anti-heroes found in fantastic cinema. An auteur genre film that premiered at the Berlinale in 2009, today it's a hidden treasure on festival circuits.