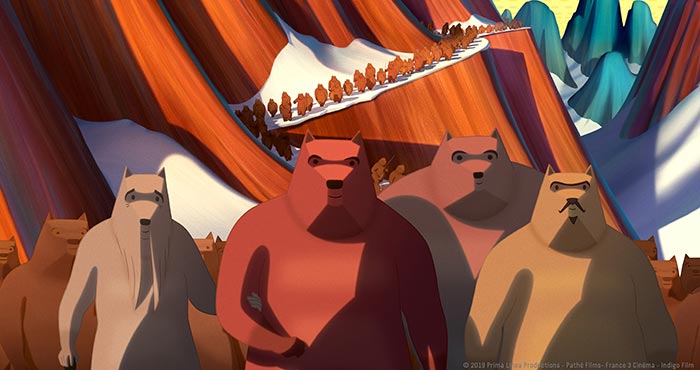 THE BEARS' FAMOUS INVASION

Everything begins in Sicily, on the day when Tonio, the son   of Leonzio, King of the Bears, is captured by hunters. Taking advantage of the harshness of a winter that threatens his people with famine, Leonzio decides to leave, invade the plain where the humans live and look for Tonio. With the help of his army and a magician, he ends up finding Tonio and takes over the country as King. However, he quickly realises that bears are perhaps not made to live in the human homeland.
This tribute to comedia dell'arte, adapted from the eponymous novel by Dino Buzzati, is a wonderful story that is enhanced by Lorenzo Mattotti's colour illustrations.
Sunday, 15 September, 11:00am at the St Ex
Info
Country: France, Italia
Year: 2019
Year: 1hr21
Version: in French
Cast & Credits
Director: Lorenzo Mattotti
Producers: Valérie Schermann, Christophe Jankovic
Scenario: Thomas Bidegain, Jean-Luc Fromental, Lorenzo Mattotti
Voices: Leila Bekhti, Thomas Bidegain, Jean-Claude Carrière