FLIP MIX
HALLOWE'EN 29 OCTOBER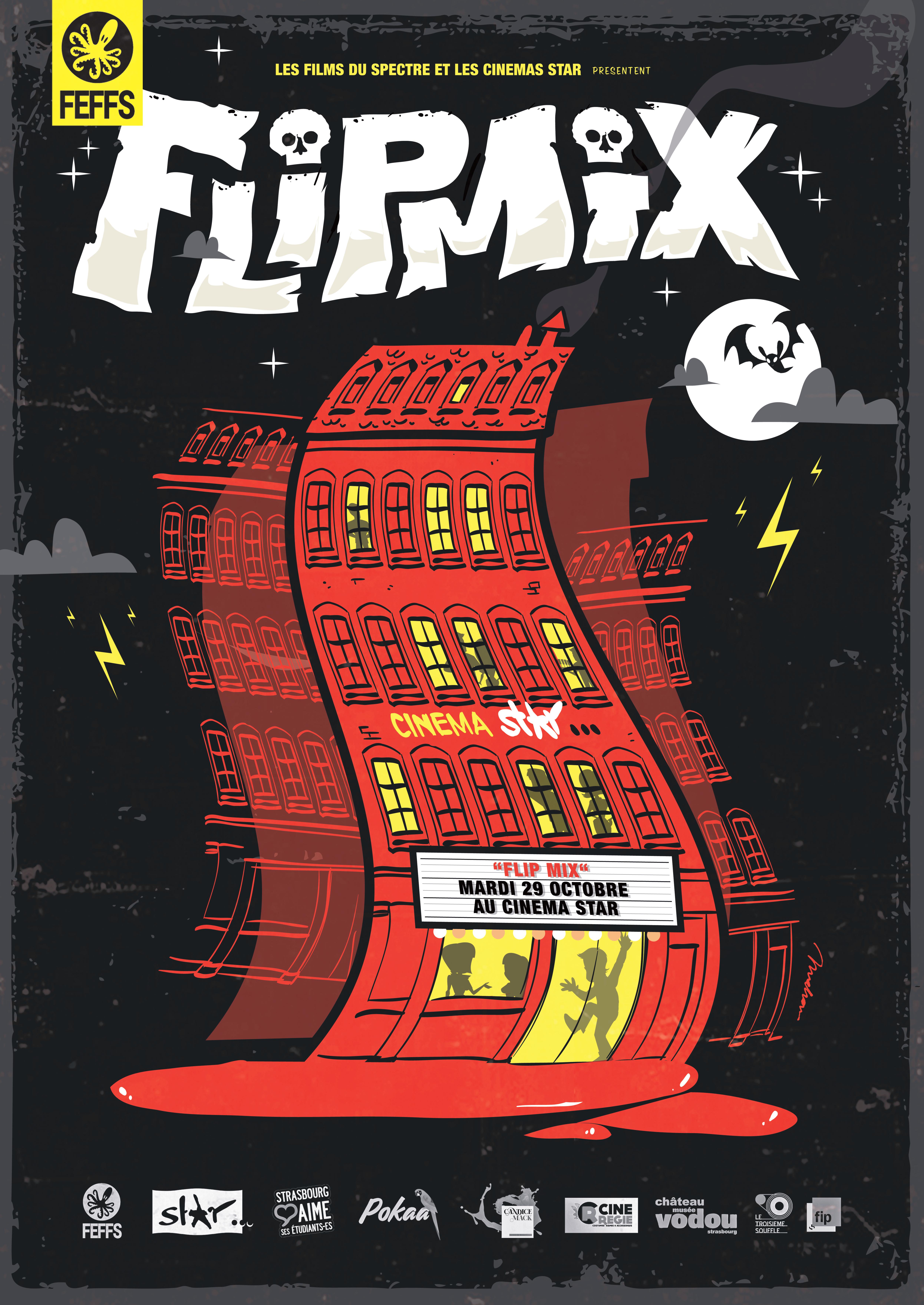 Celebrate Hallowe'en (All Hallows Eve), an ancient Celtic, then Roman, then Catholic tradition today confiscated by everyone who wants to have freaky fun. Do it in style at this monster event created by Les Films du Spectre, better known as the Strasbourg European Fantastic Film Festival, and Strasbourg's Star cinemas. It's total immersive, festive and gut-frightening fun. In keeping with the cinemas' Split Mix tradition, no need to sit still. You can wander in and out of the maze of screening rooms and hallways to enjoy weird movies and the other weird doings, with snacks and drinks and a DJ set among the many surprises.
Organised jointly with the association "Strasbourg aime ses étudiants" (Strasbourg loves its students). Enticing poster design by Mahon Don Macia.
Who? This naughty foul fanfare is strictly off limits to those under 16.
When? Doors open at 22:00 and close at 1:30 in the wee hours.
How much? Full price: €15 for tickets bought in advance; €20 at the box office in the evening. Student discounts: €10 if bought in advance; €15 at the box office. Advance tickets can be purchased beginning 4 October at either of the cinema Stars or at www.cinema-star.com.
LIVE
Cabaret freak show 22:15 / 23:00 / 23:45 (20min)
DJ set 00:00-01:30
ANIMATED FILMS IN "4D"
22:15: The Little Boutique of Horrors, by Frank Oz
24:00: The Rocky Horror Picture Show, by Jim Sharman
SLASHER POP CORN
22:15: Friday the 13th (35mm) by Sean S Cunningham
00:00: A Nightmare on Elm Street, by Wes Craven
FLIP MIX CONTEST
Decibel-o-metre Scream contest, Battle Air Zombie, Crytec VR, creepypastas, voodoo rites