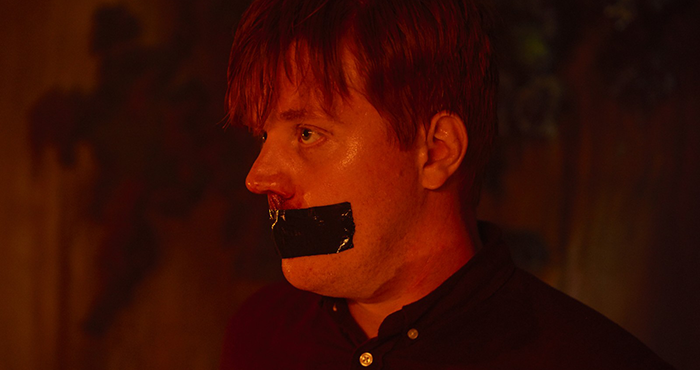 The Festival brings audiences a certain number of films which will never benefit from a theatrical release, or if they do, it will be limited in scope. These films deserve more. Where can they be watched or watched again? With DVD publishers badly hit by the current economic situation, VOD platforms have emerged as the best way to see films that have slipped unnoticed through the net. The following is a non-exhaustive selection of Festival-recommended films that are but a quick click away from your, by now, sagging sofa.
Netflix
The Invitation – Karyn Kusama
Winner of a Golden Octopus at the Festival in 2015, The Invitation unveils events that take place at an upscale but strange dinner party in the heights of Los Angeles. Troubling, with thick with undercurrents of undefined tension, The Invitation marked a high spot in Karyn Kusama's career.
Under the Shadow – Babak Anvari  
The Festival is especially pleased to introduce talented emerging directors, such as Babak Anvari, the British-Iranian filmmaker. His debut film is a terrifying story of Jinns and confinement during the Iran-Iraq war.
Terrified (Aterrados) – Damian Rugna
This old-school film of pure horror from Argentina played in our Midnight Movies section. Douse the lights and just try to survive the opening scene.
Swiss Army Man – Daniel Kwan, Daniel Scheinert
In the Harry Potter afterlife, Daniel Radcliffe has turned into a farting corpse dragged around by Paul Dano in full sentimental delirium. This audacious and moving film (hard to believe the pitch, we agree) was our opening night film in 2016.
Amazon Prime Vidéo
Green Inferno – Eli Roth
Eli Roth sent the Festival a personal video message as a preamble to his variation of Cannibal Holocaust. Green Inferno is a grossly underrated film whose rain-forest violence takes a few swipes at contemporary society. Amusing and uninhibited, just like its director.
Burying the Ex – Joe Dante
Joe Dante almost apologised for this film it at the end of his masterclass in 2015. Burying the Ex may not be his greatest, but it's always a pleasure to discover a new horror comedy from this immense and often underrated filmmaker.
Zombeavers – Jordan Rubin
Amazon loves our Midnight Movies. You won't laugh as much watching this wild midnight comedy on your lockdown couch as you would in a jam-packed cinema, but if you can't get cake, then mutant beavers will taste just as good.
The Canal – Ivan Kavanagh
A gripping horror film that played in competition, Ivan Kavanagh's atmosphere of pure fear made more than one member of the audience cry out.
Ron Goossens – Steffen Haars, Flip Van der Kuil
This jubilant, trashy comedy from the writer-directors of New Kids Turbo features past festival guests Dick Maas and Martin Koolhoven.
Outbuster
Outbuster is the VOD platform where the largest number of the Festival films are available. A deviant, daring and singular platform for film buffs.
I Am Not a Serial Killer – Billy O'Brian
Irish filmmaker Billy O'Brian explores the heart of small-town America through a teenager fascinated by his own violence. One of Christopher Lloyd's last screen appearances in a masterfully told story from beginning to end.
Cutterhead – Rasmus Kloster Bro
A disaster film, lauded by both jury and public, Cutterhead is a highly accomplished debut from a promising director Danish director.
The Open – Marc Lahore
The war, the Scottish Highlands, a Roland Garros replay but in air tennis, The Open is as crazy as any summary of its plot would suggest.
The Greasy Strangler / An Evening with Beverly Luff Linn – Jim Hoskin  
Two films to discover from a politically incorrect auteur, Jim Hosking. The American filmmaker does it his way, telling stories in offbeat, trashy and unfashionable worlds. The term "a film for festivals" fits Hoskin's work like a velvet glove.
Double Date – Benjamin Barfoot
It's surprising that this Golden Octopus winner never got a theatrical release in France. Cheer up your lockdown with this jubilant odyssey of a virgin chosen for a demonic ritual of human sacrifice.
The Endless – Justin Benson and Aaron Moorhead
Few filmmakers manage to get as much out of a micro budget as the well-known duo Justin and Aaron. From one film to the next, they carve out their pathway with humility and talent in the neglected genre of low-budget sci-fi.
Wetlands – David Wnendt
Outbuster's catch phrase, "a non-simulated romantic comedy" is an apt one. A phenomenal and unclassifiable oddity by German director David Wnendt, Wetlands is about the awakening of sexuality, all kinds of them.
Other platforms stock films for a limited amount of time or propose replay, such as MUBI and OCS, putting a time limit on the validity of our recommendations as well. So, don't hesitate to start exploring their catalogues before these films slip away.