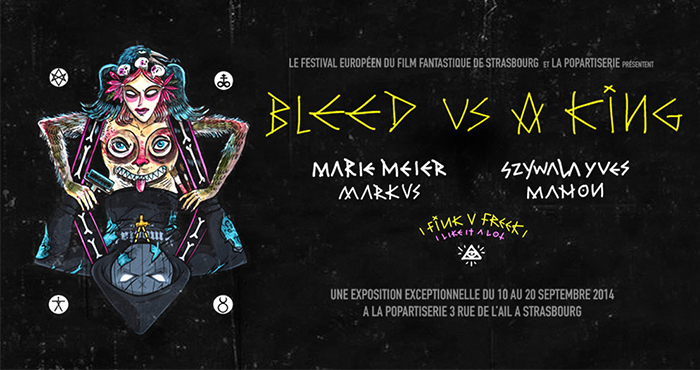 BLEED US A KING EXHIBITION

From September 10th to 20th
2:00pm - 10:00pm
La PopArtiserie

From September 10th to 20th September the La PopArtiserie gallery will be staging the Bleed s a ing exhibition on the fringes of the festival with four Alsatian artists who are mad about fantasy witchcraft and steampunk.
Mahon a street artist who has for a long time travelled the streets of Strasbourg and brightened them with his works has produced the festival posters.
Marie Meier whose graphical fantasy world is interspersed with creatures and legends.
Markus who will immerse you into the bayou world with his devils and frightening installations created using salvaged materials.
And ves S ywala who produces organic sculptures and steampunk blending bones and metals.
The exhibition can be seen from Tuesday to Saturday from 2pm to 10pm.
A gris-gris dolls workshop will be moderated by Markus on Wednesday, September 17th.