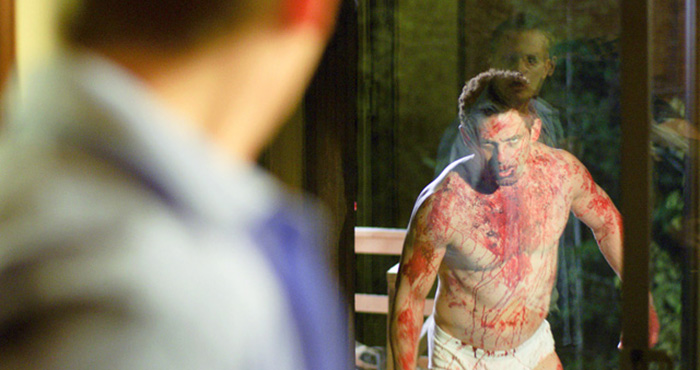 EDDIE, THE SPLEEPWALKING CANNIBAL

Lars, a young Danish artist who once enjoyed international acclaim, has painter's block, and is fast becoming a has-been. His past inspiration had come from a terrible accident, but now that the shock and trauma have healed, he has sunk into mediocrity. His worried art dealer finds him a job as an art teacher in an affluent high school in the Canadian wilderness, where Lars also becomes a minder to the gentle but simpleton giant, Eddie. The school's wealth depends on keeping Eddie out of an institution, but he has a dark secret: highly destructive for some, highly lucrative for others, specifically Lars, the school and a conniving art market.
Spanish director Boris Rodriguez masters with brio the art of horror comedy in this hilarious film that spoofs on issues rarely dealt with in contemporary genre cinema: psychoanalytical theory linking art to suffering; art and morality; the greed of the art market. Rodriguez's filmography includes Havana Kids (1996), Night Kiss (2000) and Perfect (2004).
Infos
Country: Danemark, Canada
Year: 2011
Duration: 1hr 23
Version: English, with French subtitles
Rating: 16+
Cast & Credits
Director: Boris Rodriguez
Producer: Michael A. Dobbin, Ronnie Fridthjof
Screenplay: Boris Rodriguez
Cinematography: Philipe Kress
Editing: Sara Bøgh Jensen
Music: David Burns
Cast: Thure Lindhardt, Georgina Reilly, Dylan Smith