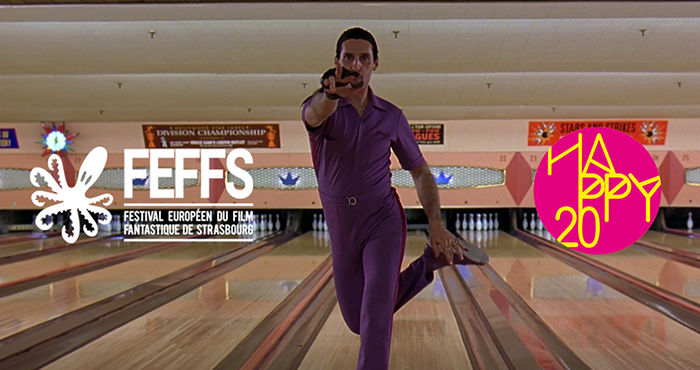 CINEMA-BOWLING – FEFFS X HAPPY 20 MAMCS

Friday 1 June from 6pm to midnight …
smack in front of the Strasbourg Museum of Modern and Contemporary Art
 In March of 1998, the Coen Brothers' The Big Lebowski hit the cinemas neglected and unsung. Back then, it made no splash whatsoever; today it's reached cult status and is one of those films whose magic increases with every viewing.
The Strasbourg Museum of Modern and Contemporary Art is celebrating its 20th year of existence with its Happy 20 festivities and has teamed up with the Strasbourg European Fantastic Film Festival to revive yet again this cult film that refuses to go away.
So to give the Dude the fanfare he deserves, the Festival will invade the prestigious Hans-Jean-Arp Square, just in front of the museum, to present the innovative new concept of Le Cinéma Bowling, with a bowling alley and pins the likes of which you've never seen before.
Dress creatively: your sexiest peignoir or catsuit bowling outfit, or the most phantasmagorical Valkyrie duds you can put together.
There'll be drinks, bowling competitions and an under-the-stars projection of the The Dude in The Big Lebowski.
On the programme
6pm: just show up at the Hans-Jean-Arp Square
6-9:45pm: DJ set Vladimir Spoutnik, bowling, refreshments and snacks
9:45pm: screening of The Big Lebowski in English, subtitled in French
pimp my pin
The Festival is looking for regional artists and craftspersons to help make customised bowling pins
Submission deadline is 10 May
Learn more here
Happy 20
The Strasbourg Museum of Modern and Contemporary Art opened its doors on 6 November 1998. To celebrate its 20th anniversary, the Museum will devote one entire year, from May 2018 to May 2019, to 20 festivities and 30 artistic events – what better occasion honour contemporary creators and their works.
Lean more here.
Contact: com@strasbourgfestival.com / 09 52 83 73 88