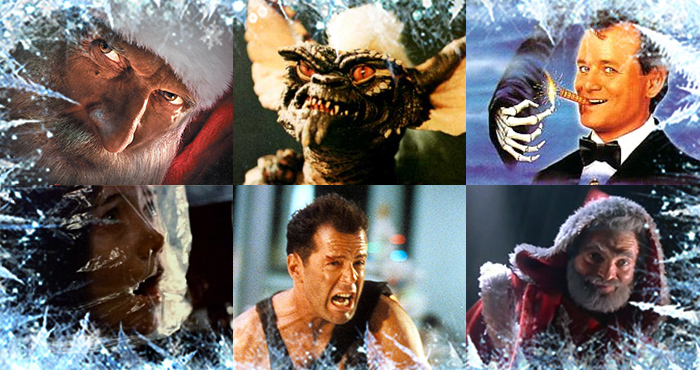 THE CHRISTMAS HEEBIE JEEBIES

Special Christmas Movie Night on 14 December
If you've had it with all those carefree, naive tourists swarming all over the Christmas market shopping for presents, while you know full well that the serial killer still lurks, then you'll be right at home at Christmas Movie Night, to be held on 14 December at the Institut Lebel, 4 rue Blaise Pascal, in Strasbourg.
Six films that illustrate that Christmas is also about hold-ups, atonement for sins, monsters and psychos who roam the streets … and that Santa Claus may well be from Finland, but whose true story is not exactly what was told to you as a child.
Don't miss 36 15 Code Père Noël, René Manzor's cult film, bottle fed to the VHS generation, and which is finally out in HD, thanks to DVD editor Le Chat qui fume. And if you think that Carpenter's Halloween was cinema's first slasher, then you've clearly never seen Bob Clark's 1974 Black Christmas.
On a lighter note, no Christmas movie fête would be worth its name without Joe Dante's Gremlins, and his nasty little anarchists who make shambles of Christmas Eve in squeaky clean American suburbia. Want more? Try Richard Donner's Scrooged, a film adaptation of Charles Dickens' A Chrismas Carol, with an over-the-top Bill Murray. If you want the real dirt on Santa's origins, then don't miss Finnish director Jalmari Helander's Rare Exports: A Christmas Tale. No question either of missing the rare opportunity to see John McTiernan's Die Hard on the silver screen, the first in his trilogy of the same name. It all about how detective McClane's Xmas holidays go awry when terrorists take hostages in a skyscraper. 
Other fun things include happenings, real-live fantastical elves, enacted Christmas stories, gifts galore to win and a far-out, screwball animated Nativity scene.
This special evening is organised jointly by the Service universitaire de l'action culturelle, Artus and the Strasbourg European Fantastic Film Festival
The programme
(Note that all films will be shown in the original English version, subtitled in French, with the exception of 3615 code Père Noël, shown in French only.
8:15pm
Scrooged – Richard Donner – 1988 – amphi 1
Die Hard – John McTiernan – 1988 – amphi 2
Gremlins– Joe Dante – 1984 – amphi 3
10:30pm
Rare Exports: A Christmas Tale –Jalmari Helander – 2011 – amphi 1
3615 code Père Noël – René Manzor – 1990 – amphi 2
Black Christmas – Bob Clark – 1974 – amphi 3