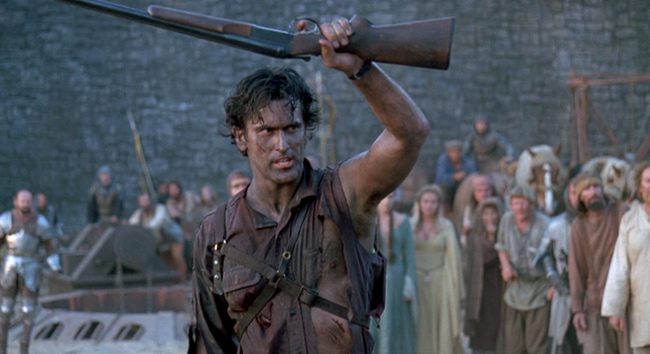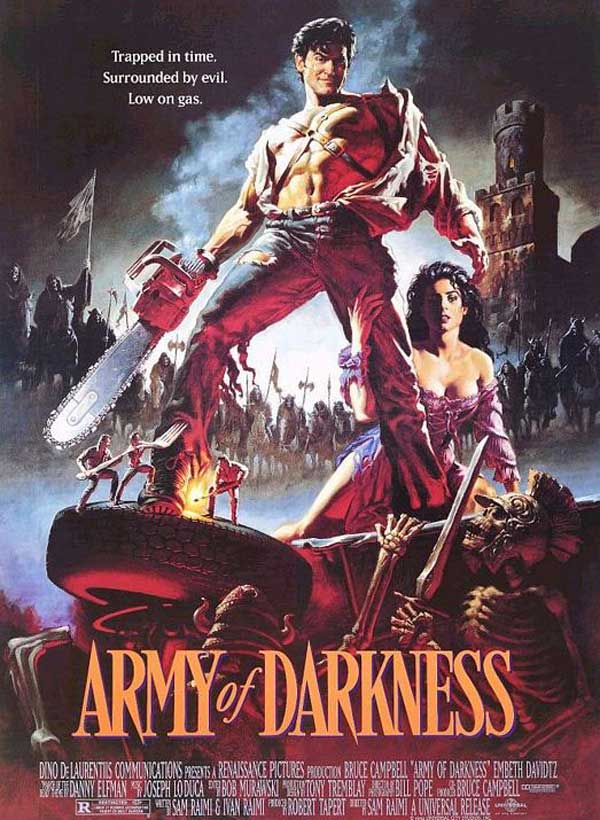 Sam Raimi has always been able to combine the comedy with fear, and navigate with brio along a wire stretched between these two concepts. After a double detour through the forest with haunted cabins and creaking trap doors, Raimi's protagonist, Ash, played by an over-the-top Bruce Campbell, is sucked through a time vortex back to the Middle Ages. Sporting a chainsaw instead of an arm, holding a rifle in the other hand, he makes his way through a series of even more extravagant adventures.
Raimi's has softened his tone somewhat and has a lot of fun playing around with his extended universe, his uncouth rough and toughies and Medieval imagery. Army of Darkness is nowhere near as frightening as his two previous films, and yet many of his fans see it as their favourite Raimi film.
Evil Dead II was no more than an ambitious reread of the original, but with Army of Darkness, Raimi transports his saga to a new territory and context. And in so doing he imposes his signature on the film. In Sam Raimi films, shrieks of fear are followed by bursts of laughter. And vice-versa.
Friday, 16 June, 10 p.m. at the Star St-Exupéry
Info
Country: USA
Year: 1993
Runtime: 1hr36
Version: In English, subtitled in French
Rating: 12 years and up
Cast & Credits
Director: Sam Raimi
Actors: Bruce Campbell, Embeth Davidtz, Marcus Gilbert