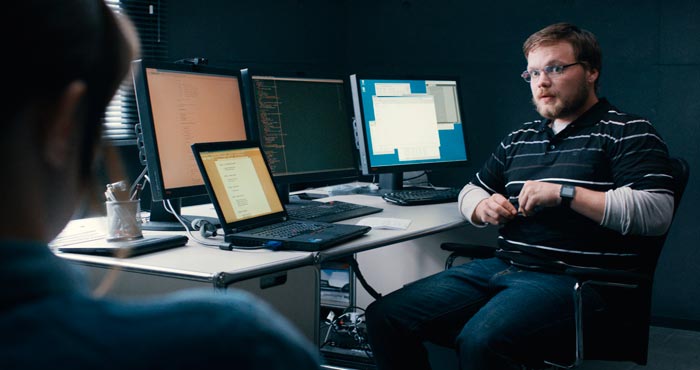 A YOUNG MAN WITH HIGH POTENTIAL

Piet is a brilliant computer-science student. Shy and socially inept, he rarely leaves home. His monotonous routine is interrupted by Klara, who wants to join him in a research project. Even though he's perturbed by her presence, he begins to open up to her, but unused to women, he misinterprets her friendly gestures.
Linus de Paoli's second feature, with its clinical aesthetics, is disturbing. This psychological thriller explores sexual frustration and human solitude in the age of the Internet, but not without doses of black humour. The resulting feeling of unease is reminiscent of the films of Haneke.
Info
Country: Germany
Year: 2018
Duration: 1hr 25
Version: English, with French subtitles
Rating: 16+
Cast & Credits
Director: Linus de Paoli
Producers: Anna de Paoli, Gerhard Hanh
Scenario: Anna de Paoli, Linus de Paoli
Cinematographer: Lucian Cervio
Editor: Linus de Paoli
Music: Felix Raffel
Cast: Adam Ild Rohweder, Paulina Galazka, Pit Bukowski